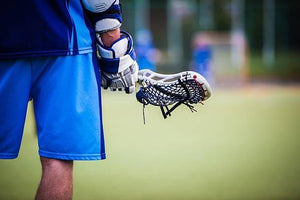 Should Boys Lacrosse be Classified as a "High-Risk" Sport?
Almost a year ago, COVID brought Spring sports seasons to a grinding halt. Before play was gradually allowed again, the National Federation of State High School Associations (NFHS) classified every sport into categories based on how likely the sport was to facilitate the transmission of COVID-19: "high risk", "moderate risk", and "low risk".
Last week on the blog we looked into what makes hockey such a "high risk" sport. But with Spring sports just around the corner again, many are asking NFHS to reconsider last year's classification of boy's lacrosse as "high risk".
One of the main arguments behind the appeal is that girl's lacrosse was classified as a "moderate risk" sport. Opponents of the classification also argue that boy's lacrosse involves considerably less close, sustained contact between players than other "high risk" sports such as wrestling and football. They believe that boys lacrosse is closer to soccer, field hockey, and girls lacrosse in terms of player-to-player contact.
The classification of boys' lacrosse as either "high risk" or "moderate risk" will be a key determining factor in whether, and to what degree, play is allowed this Spring season.
If your team or child  does find themselves back on the field this spring, make sure they are protected from not just COVID, but other transmissible viruses and bacteria by sending them to practice with Matguard's Helmet & Pads Bacteria Disinfectants. 
Coaches have elevated their health and safety COVID protocols with Matguard's MatPRO Cleaning Solutions.  MatPRO is also used every day by thousands of sports teams for the prevention of MRSA, Ringworm, HIV, Blood Borne Pathogens, Staph, Viral Infections, bacterial Infections and Fungus prevention.
This post references
The Hartford Courant
.
---