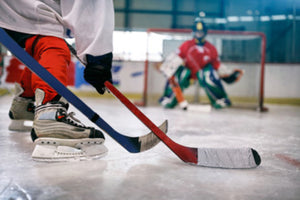 What's Keeping Hockey Players Off the Rink This Season
COVID-19 has devastated high school sports seasons since it struck last March, but perhaps none worse than the winter sports season. Due to the virus' primarily airborne nature, basketball, swimming, and so many other indoor sports have found it difficult to safely play. But if one sport has caught a tougher break than the rest, it's hockey.
Hockey teams have had to deal with cancelled games, suspended or delayed seasons, quarantines, and disproportionately high hurdles this year. Why? Mostly because coronavirus experts, including the CDC, warn that hockey is a "medium-to-high risk" sport, and some agree that it may even be the riskiest sport of all.
What makes hockey so uniquely high-risk for COVID transmission?
The air in the arena is stagnant. 

Air flow is intentionally reduced, in part to prevent the ice from melting.
High boards between the rink and stands further prevent ventilation.
COVID particles can hang just above the ice.

This makes it more likely that players will breathe them in.
Rinks are dehumidified to reduce ice melt.

COVID has been shown to be more transmissable in less humid air.
All within these 4 walls, hockey is a high-energy sport. With players coming on and off the bench, promoting personal space is nearly impossible.
While the nature of the arena presents special challenges as we try to protect against the virus, there are things we can do to promote safe play. We need to be disinfecting all high-contact surfaces frequently inside the arena. We highly recommend Arena management use MatPRO Cleaning Solutions  which is our highly concentrated formula that kills coronavirus and other contagious skin diseases immediately. And for your helmet and pads, disinfect immediately after play with our full line of Helmet and Pads Disinfectants to keep your player and family safe this season. Ask players and their parents to get their own 8 oz personal size for the car and our XL Wipes to wipe down their hockey gear when they get home.
This post references The Milwaukee journal Sentinal and CBC.
---