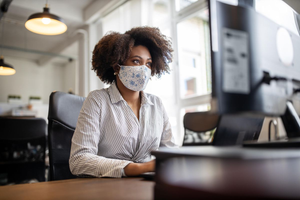 Going Back to the Office in 2021? Expect These Changes
Offices are always changing styles. Remember cubicles? Or who's had an "open concept" office? What's hot and what's not in the office is constantly changing, and in 2020, the concept of going to the office entirely quickly went into the "not" category.
But 2021 has allowed us to see a distant light at the end of the tunnel, and experts are imagining what a return to the office might look like. Their first prediction: many people will go back, at least to some extent. So if and when you do, what type of workplace will you step into? What can you expect?
In the short term, experts predict the following changes:
A pendulum swing back from the recently

hot

"open concept" office, toward "pod-like" offices with subsections so that you can stay close to your team without exposing yourself to everyone in the office.

Less people at a time being in the office.

Flexible work arrangements becoming more popular, for example, 2 days at home, 3 in the office.

Lots of health measures, such as increased airflow, increased disinfecting of surfaces, and investments in thermometers. 
And down the line, offices might take a huge step into the future, experiencing changes like:
In-office child-care becoming more popular.

Video conferencing becoming smarter, so as to not give an advantage to those who are physically in the office.

Investing in more smart technologies that allow many office functions (booking a conference room or calling the elevator, for example) to become hands-free.

More

automation

 in offices than ever.
If you can see yourself going back to the office this year, be prepared! While your office will probably be equipped with plenty of sanitization products, you may prefer to bring one you know and trust, like our 8oz Hand & Body Cleanse. If you're a small business owner thinking of having your employees come back to the office, follow the advice from our last blog and factor your disinfecting products into your 2021 budget, buying our economical, hospital-grade products in bulk. 
This post references
The Washington Post
and
ZD Net
.
---