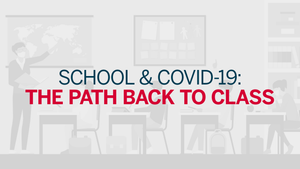 WHY RETURNING TO SAFE, IN-PERSON SCHOOL IS IMPORTANT
Schools represent more than just academics and sports to children and parents. Yes, students learn reading, writing and math skills from teachers. Students learn social and emotional skills through peer education. Students get exercise and develop team building skills from coaches.  Schools give access to mental health and offer other support services that matter. 
Schools offer much more: For many families, schools are where kids get healthy meals, access to the internet/equipment, and other vital services.  Also, for families with High School students count on financial aid support and apply for academic and sports scholarships to help their children get into Trade Schools or Colleges and Universities.
High School provides the impetus to stimulate and enrich places for teens to learn and advance their skillsets.  And it was not easy to do so, during the pandemic.  This school year will also be difficult for families, schools, and communities to work together and agree that is safe to return and remain physically together in school and after school activities.
Let's not forget, before the pandemic, safety for students were always top of mind. Coaches will tell parents that their number one priority is to keep athletes safe. Today, health and safety protocols were elevated in every school. Not all families, schools and communities will agree that their school is completely safe this fall to return, but most will agree safe, in-person school is very important.
Cleaning, disinfecting & hygiene is critical to remain safe and open. Schools should follow CDC guidelines on proper disinfecting and sanitizing classrooms and common areas. Students and staff should be encouraged to wash hands with soap and water or use hand sanitizer regularly.
Also critical is Ventilation. Schools should improve air flow as much as possible by opening windows and doors. Child-proof fans can help improve ventilation and blow potentially contaminated air out.
If you are a coach, we strongly recommend what over 5000 sports teams are doing and using this season:
When soap and water is not available, they use Matguard's Hand & Body Cleanse spray to kill germs and mitigate the spread to other students and players. Unlike other sanitizers, Matguard's patented formula never dries out your skin. 
For equipment cleaning, they use and trust Matguard's industry leading Helmet & Pad Disinfectants. It is fast drying, safe on skin and equipment. Does not leave a residue.
High Schools prefer a high concentrated formula when disinfecting large areas, like weight and locker rooms. They use Matguard's MatPRO Cleaning solutions   that are ideal for cleaning the many high-touched surfaces that surround you and your team.
---