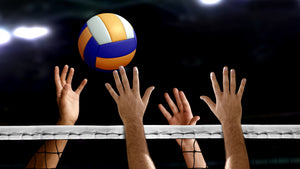 What Youth Volleyball Coaches and Schools Are Doing To Protect Their Team
Many of our youth are back on the court this volleyball season. Fortunately, few things help enforce social distancing quite as well as a net, but still, there are many other steps we need to take to keep our players safe. USA Volleyball recently released a statement recommending clubs and facilities adhere to stringent federal, state, and local guidelines before, during and after any volleyball activity. Here are our key takeaways:

Before Activity
Temperature checks for all participants.
Disinfect the venue and all equipment.
Ensure all participants (players and coaches) are symptom free before participating in any activities.
Provide sufficient hand washing and/or sanitizing stations. When soap and water are not available, try an Athletic Body Wipe do the trick.
Outline proper social distancing guidelines.
During Activity
Sanitize the venue and disinfect the balls between matches.
Enforce Social Distancing.
Modify drills to limit/reduce social distancing violations including high fives, huddles and team meetings.
Use hand whistles in lieu of regular whistles when possible.
Refrain from touching face, nose, eyes or mouth with unclean hands.
After Activity
Sanitize and disinfect all surfaces and volleyballs used during club activities.
Get a personal size hand and body-cleanse-spray-unscented-8oz spray to take with you.
Implementing these guidelines will reduce the risk of contracting Covid-19 for players and coaches. But just what products are the best to use? The CDC recommends using a product with at least 70% isopropyl alcohol to extinguish Covid-19 germs. Matguard's surface disinfectant products and body line of products meet these guidelines, so you can send your player on the court safely.
---