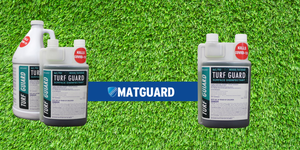 Turf Guard: The Insurance Policy for Athletic Directors
Ensuring clean and safe facilities is a top priority since the COVID-19 pandemic. Athletic directors, schools, and coaches are under pressure to keep their Athletic spaces clean and disinfected. This is where TurfGuard comes in! This product provides peace of mind in addition to reassurance for someone like an athletic director. Providing confidence that the materials played on are safe for the athletes. We help answer the question. Have we done everything within our power to prevent an injury or an infection?
Trust The Formula 
TurfGuard for Synthetic Turf is a specialized formula that provides medical-grade disinfecting of any hard or soft surface. TurfGuard for synthetic Turf effectively kills the COVID-19 virus and a broad spectrum of germs and viruses, including Listeria, E. coli, Pseudomonas, Staphylococcus (MRSA, VISA), Salmonella, VRE, C. diff (vegetative form), and harmful bacteria. The active ingredient proved Hospital-Grade disinfecting properties while being safe for use on a variety of Athletic surfaces.
Made for Athletes Protection
This product is perfect for use in Gyms, MMA Facilities, Athletic training centers, Yoga Studios, medical centers, spas, and all synthetic surfaces. The concentrated, highly dilutable formula allows for complete disinfecting, deodorizing, and sanitizing all synthetic Indoor and Outdoor Turf Fields and hard Athletic surfaces.
Economic and easy to apply
Simply dilute 1 oz per gallon of water and use it on the desired surface. A clearly marked Industrial sprayer would be perfect for inside use. For outdoor fields, your maintenance crew can apply using a simple Plastic Pull-behind Sprayer behind a tractor or gator. We can send a list and examples of equipment that can be used.
Disinfectant Insurance 
TurfGuard for synthetic Turf meets the CDC-recommended criteria for cleaning and disinfecting hard non-porous surfaces. Further making TurfGuard for synthetic Turf a reliable and effective choice for cleaning and disinfecting public spaces. In short, this product is an insurance policy for athletic directors, schools, and companies. TurfGuard for synthetic Turf provides peace of mind that the turf and other surfaces in your facility are clean and disinfected, protecting the health and safety of everyone who uses the space. With TurfGuard, you can have confidence that your athletic fields and facility are clean and safe for use, by everyone!
---