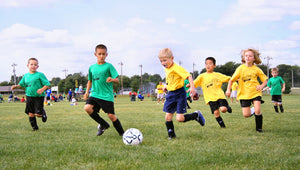 This Summer, Protect Your Skin!
Summer is finally here! At least unofficially that is. Memorial Day weekend has come and gone, with the summer season officially starting on June 21st.
With summer comes warmer weather and the desire to spend more time outdoors. As we flock to beaches, lakes, parks, and more, it is important to take necessary precautions to protect ourselves from new surroundings.
Of course, spending more time outdoors can coincide with potential skin issues, like sunburn and bug bites. But what about when you're active and choose to exercise? Can you really trust that dirty gym equipment? What about shared athletic gear? How can you protect your skin and maintain proper skin hygiene?
Matguard is the right choice for healthy skin this summer. Our products kill both MRSA and Ringworm, are FDA-regulated, and are designed to be safe on your skin.
Matguard has been proven to be effective against a broad spectrum of germs and viruses. Simply put, whether you're at gym or even on the go, Matguard is safe skin and surface protection that you can trust.
This summer, make the right choice. This summer, choose Matguard.
Matguard protects You from the nasty stuff! Our goal is to provide the best quality, easiest to use, and affordable products available to our market while playing an integral role in educating athletes, coaches, and trainers on how to protect against infectious diseases and cross-contamination of equipment, thereby reducing the effects of bacteria on people involved in sports.
MATGUARD Wipes, Sprays and Foam uses a proprietary formulation containing 70% Isopropanol that is highly effective at killing MRSA without drying skin or leaving a sticky residue. 
MATGUARD® BODY WIPES contain a patented formulation that has proven to be extremely effective at prevent the germs, viruses, and bacteria that people involved in athletic and physical activity come in contact with.
MATGUARD antiseptic sprays contain special ingredients that kill 99.9% of the germs, bacteria, and nasty stuff that people involved in athletic activities are prone to...while leaving you clean all over and smelling awesome.
Checkout our MatPRO Cleaning Solutions for mats and surfaces.
To learn more about how Matguard is effective against a broad spectrum of germs & viruses, click here.
---