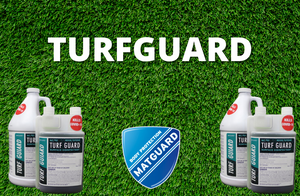 The Importance of Regular Synthetic Turf Maintenance with TurfGuard
At Matguard USA, we understand the importance of regular synthetic turf maintenance with TurfGuard. As a provider of synthetic turf disinfectant and cleaner products, we know firsthand the many benefits of using TurfGuard for artificial turf disinfectant and maintenance. In this blog post, we'll discuss the importance of regular synthetic turf maintenance and how TurfGuard can help you keep your turf in top condition.
Why Regular Synthetic Turf Maintenance is Essential
Synthetic turf is designed to be durable, but it still requires regular maintenance to perform at its best. Neglecting synthetic turf maintenance can lead to safety hazards, decreased performance, and higher replacement costs. Over time, dirt and debris can accumulate on the turf's surface, leading to unpleasant odors and potential health hazards. Regular synthetic turf disinfectant and cleaning can help prevent the growth of bacteria and fungi, reduce unpleasant odors, and extend the lifespan of the turf.
How TurfGuard Can Help with Synthetic Turf Maintenance
TurfGuard is a powerful disinfectant and cleaner specifically designed for synthetic turf. It is an artificial turf cleaner that can effectively kill bacteria and fungi, preventing their growth and the associated unpleasant odors. TurfGuard is also safe for use on synthetic turf, making it a popular choice among turf owners. Regular use of TurfGuard can help extend the lifespan of synthetic turf, reduce the need for costly repairs, and improve the performance of the turf.
Using TurfGuard for Synthetic Turf Maintenance
Using TurfGuard for synthetic turf maintenance is straightforward.
First, remove any debris from the turf surface. 
Dilute 1 oz per gallon of water for use on the desired surface.
Use with an industrial sprayer for indoor use or a plastic pull-behind sprayer for outdoor fields.
Easy to apply with clear instructions and equipment options available.
Why Choose TurfGuard for Synthetic Turf Disinfectant and Cleaning
TurfGuard is a superior choice for synthetic turf disinfectant and cleaning for several reasons. Unlike some disinfectants that can damage synthetic turf fibers, TurfGuard is gentle yet effective, preserving the turf's integrity and appearance. TurfGuardEffectively kills COVID-19 and a broad spectrum of germs and viruses, including Listeria, E. coli, Pseudomonas, Staphylococcus (MRSA, VISA), Salmonella, VRE, C. diff, and harmful bacteria. The active ingredient has proven hospital-grade disinfecting properties while being safe for use on athletic surfaces.
Regular synthetic turf maintenance is crucial for ensuring optimal performance, safety, and appearance. TurfGuard is an excellent choice for synthetic turf disinfectant and cleaning. Providing powerful disinfection and cleaning while preserving the turf's integrity. By incorporating TurfGuard into your synthetic turf maintenance routine, you can enjoy a cleaner, safer, and longer-lasting synthetic turf surface. Try TurfGuard today and see the difference it can make for your synthetic turf!
---