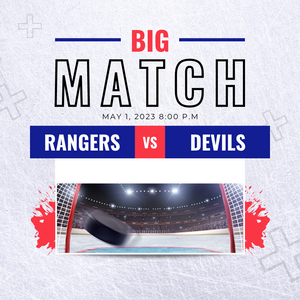 Rangers vs Devils Game 7: Keep Your Hockey Equipment Clean
Hockey is a tough, physical sport that requires a lot of gear to be worn during every game, from helmets to gloves to pads. All this equipment can get very dirty and smelly, which is why it's important to clean it regularly. Fortunately, Matguard USA has the perfect solution to keep your gear clean and smelling fresh: our disinfectant products!
Why is it important to clean your hockey gear?
Hockey players are constantly sweating and rubbing up against each other during games and practices. This means that all their gear can quickly become a breeding ground for bacteria and germs. Over time, this can lead to bad odors, skin infections, and other health issues. That's why it's essential to keep your gear clean and disinfected, especially as the season comes to an end. Not only will this help you stay healthy, but it will also extend the lifespan of your equipment.
What is Matguard USA, and how can we help?
Matguard USA is a company that specializes in producing high-quality disinfectant products designed specifically for sports gear. Our products are tough on germs and bacteria but gentle on your equipment, making them perfect for hockey players who need to keep their gear clean and smelling fresh. We offer a range of products that can be used on everything from helmets to skates to pads, so you can be sure that your entire kit is clean and safe to use.
How do our disinfectant products work?
Our disinfectant products use a powerful formula that kills germs and bacteria on contact. Unlike other cleaning products that may contain harsh chemicals, our products are designed to be gentle on your gear while still being effective at killing germs. They are also designed to penetrate deep into the fibers of your equipment, ensuring that even the most stubborn odors and bacteria are eliminated.
What are the benefits of using Matguard USA products?
Using Matguard USA products has several benefits for hockey players. Here are just a few:
Kills germs and bacteria on contact, helping to prevent the spread of infections and illnesses.
Eliminates bad odors, leaving your gear smelling fresh and clean.
Helps extend the lifespan of your equipment by keeping it clean and free of bacteria that can cause damage over time.
Easy to use - simply spray our disinfectant products onto your gear and let them dry.
What are some tips for keeping your hockey gear clean?
In addition to using our disinfectant products, there are a few other tips that can help you keep your hockey gear clean:
Air out your equipment after every use - don't leave it stuffed in your bag or locker.
Wash your jerseys, socks, and other clothing regularly.
Wipe down your equipment with our helmet and pad wipes after each use to remove any dirt or sweat.
Use a gear dryer to help speed up the drying process and prevent bacteria growth.
In conclusion, if you're a hockey player looking to keep your gear clean and smelling fresh, then Matguard USA has the perfect solution for you. Our disinfectant products are tough on germs and bacteria but gentle on your equipment, making them the ideal choice for hockey players who want to stay healthy and extend the lifespan of their gear. With our products and some basic cleaning tips, you ca
---