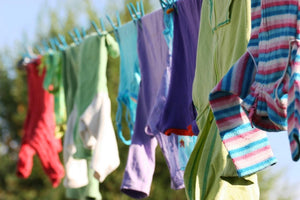 OTHER WAYS TO PROPERLY DISINFECT YOUR WORKOUT CLOTHES
Is Sunlight a natural sanitizing property? It is the last thing that families would think of when it comes to sanitizing clothes and school uniforms. But some say, when you hang your clothes outdoors to dry, the heat from the sun is actually killing surface bacteria as well. Some also say about 30 minutes in the sun is all you need for an extra disinfecting boost. It's true, that it doesn't take long for sunlight to absorb the remaining moisture in your clothes, and too much sun exposure can cause fading, so it may make sense to stick to the 30-minute mark when leaving your laundry in the sun. But there are better ways!
Winter & Summer Sports
When winter or summer sports are in full effect, you're constantly washing socks to towels to remove smells and stains from practices and games. Dirty laundry seems to be a never-ending cycle. Some use bleach in their wash cycle, but if the harsh chemicals and fragrances cause skin irritation or damage to your clothes, there are better alternatives, especially when it comes to cleaning your workout clothes and uniforms Check out how other sports eliminate bacteria and germ issues on sports equipment including; Helmets- Pads- Training Equipment- Uniforms -Braces - Chin Straps- Cleats-Gym and Weight Rooms.
Washing your clothes is a good start, but there are some items that a simple wash cycle can't do the job on its own. It especially takes a safe and powerful disinfectant to clean your helmet and pads. The Matguard Helmet & Pad disinfectant spray is an effective way to sanitize athletic equipment and protect against harmful bacteria and viruses. Matguard's non-irritating solution does not include any bleach or harmful chemicals, ensuring your athletic equipment lasts a long time after each clean. This highly effective disinfectant is EPA and FDA registered and is used by thousands of sports teams, action sports facilities, rental shops and first responders to aid in the prevention of bacteria and germ issues. To learn more about Matguard click here.
---