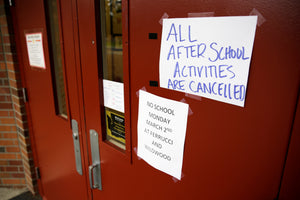 NOT AGAIN!!!
The last year or so has been quite the roller coaster. We have all experienced the many ups and downs of the Covid-19 pandemic, but in recent months, it seems the ride may be coming to an end. The country has opened up and, in many areas, life almost seems back to normal. However, with developing variants and increasing infection rates, it is looking like we may be stuck on the tracks for a little bit longer. Now, news headlines have been flooded with the imminent question: are we headed into another shutdown? After all of the progress that has been made and the efforts that have been put forth to get us to reopen, it would be very unfortunate to have to take that big step back, shutting down the country once again...especially considering the possible closing of schools and the cancellation of your team's season! To avoid this, everyone could be making some small changes that will go a long way in preventing further spreading of the virus!
We all remember the many safety measures that people were taking when the first wave of the pandemic entered our lives in March of 2020. From personal experience, I can recall my mom getting groceries delivered to the house and sanitizing each and every product before putting them in the pantry. At this point, practices like that may sound a little crazy, but that was the norm at that time. And while you might not be willing to go to that extent of cleaning again, consistent disinfecting of your hands and high-touch surfaces can have immensely positive consequences. Sanitizing becomes even more important when gathered in large groups, as there is a greater risk of the virus spreading. Therefore, as high school football practices begin, players and coaches should stress the constant cleaning of locker rooms, weight rooms, equipment, pads, helmets, and more. These football programs will be the first group of people entering schools this August, so they have the ability to make or break the fate of classes and sports seasons in fall of 2021. Taking the proper steps to sanitize, disinfect, and keep clean will assist not only the schools in avoiding a shutdown, but the rest of the country as well.
MatguardUSA is the #1 Sports Disinfectant brand in the country and is prepared to help you and your team prevent a potential re-shutdown of schools.
For equipment:  Specifically designed for football players, our Helmet & Pad Disinfectant products are the industry leaders in keeping football team's equipment clean and germ free. 
For surfaces: Try our large selection of Athletic Equipment & Surface Disinfectants are perfect for keeping harmful viruses out of locker rooms, gyms, and other spaces in your school. 
For skin protection: Check out Matguard's line of Skin Disease Prevention products which utilize our patented fast-drying 70% alcohol formula that keeps you fresh and free of bacteria at all times. 
Matguard has all of the products you need to help your team stay in the classroom and on the field during this upcoming fall season. 
---