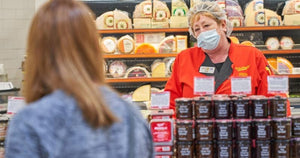 No Shirt, No Shoes, No Mask, No Service!
Will movements by states such as Texas and Mississippi to discontinue mask mandates put food retailers doing business in those states back into an awkward position? And will other states follow? Could this reversal be potentially harmful to their workers, shoppers and businesses? 
It will vary within state and by retailers because as of now they're on their own to interpret and limited as how to enforce this proclamation to strike a statewide mask mandate and restrictions on capacity. 
There will be several retailers that will continue to require employees in its stores to wear masks until its workers can receive the COVID vaccine to safeguard employees. But with restrictions by the state, may leave retailers with little authority to enforce the wearing of face coverings for shoppers.
Bottom-line: Retailers with CDC guidance, will continue to encourage everyone to practice social distancing and disinfect on frequently touched services, including with low-contact grocery pickup. For most retailers they have are using a reputable Surface Disinfectants & Cleaner Brand like Matguard that are safe on skin and equipment.  However, if that is not enough to put you at ease,  shoppers should bring their own FDA approved Hand and Body Cleanse Spray like Matguard. 
As reported by Winsight Grocery Business on March 3, 2021…"According to local reports, grocery retailers with a significant Texas presence, including Sprouts Farmers Market, Whole Foods Market and Walmart, like Kroger, are still 
requiring that customers wear masks
. Others like H-E-B and Albertsons Cos. are still requiring their employees wear masks but are only go so far as strongly encouraging shoppers to do so.
---