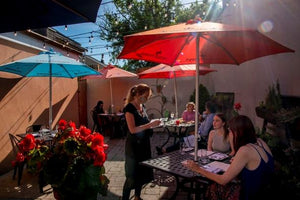 New Restaurant Practices for Employees
What Patrons Should Know:
Recently, the FDA shared information regarding safe practices for operating retail food stores, restaurants, and pick-up and delivery services in an effort to safeguard staff and patrons during the Covid-19 pandemic. These practices include guidelines on handling and delivering food to the public as well as addressing safety guidelines for employee health, cleaning sanitizing and personal protection equipment.
Personal Hygiene for Employees:
Employees who show signs of being ill should be instructed to stay home.
Frequent hand washing especially when using the restroom, after eating, blowing their nose, coughing or sneezing.
Wash hands using soap and water for at least 20 seconds AND use an alcohol-based hand sanitizer with at least 60% alcohol.

Matguard Hand and Body Cleanse

utilizes a 70% Alcohol Formulation in an antiseptic spray that contains special ingredients that kill 99.9% of the germ and bacteria.
Avoid touching eyes, nose, mouth.
Use gloves to avoid bare hand touching of food.
Along with following standard safe food handling, the FDA recommends food establishments practice important Covid-19 recommendations including:
Wash rinse and sanitize food contact surfaces such as food preparation surfaces and beverage equipment after use.
Frequently disinfect frequently touches areas such as door knobs, equipment handles, check-out counters, tables.

Matguard Germ Bullet Surface Spray

contains 70% isopropyl measure by weight in combination with an emulsifier, in solution with purified water
Frequently clean and disinfect floors, counters and other commonly used areas such as restrooms with EPA Registered Disinfectants.

MatPRO

is perfect for large jobs such as floors, restrooms and all your janitorial needs. MatPRO is a Professional and Hospital Grade Concentrated Disinfectant.
---