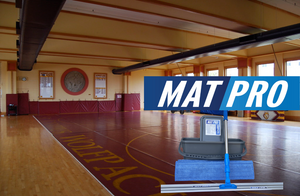 Keep Your Mats Clean and Safe with Matguard's MatPro Cleaning Mop, "The Beast"
Attention wrestling coaches, gym owners, and facility managers! Are you tired of constantly battling the buildup of dirt, sweat, and bacteria on your mats? Do you wish there was a more efficient way to clean and disinfect your mat surfaces? Look no further than Matguard's MatPro Cleaning mop, "The Beast."

This oversized (50") mop is the best of its kind in the industry, designed specifically for wrestling rooms and gyms. Its unique blend of microfiber and antimicrobial fibers makes it highly effective at removing dirt and sweat while also killing bacteria and viruses. Unlike traditional mops, which can leave behind streaks and residue, The Beast ensures a thorough and complete clean every time.
The benefits of The Beast don't stop there. Its oversized design allows you to clean more mat surface area in less time, making it the most efficient option for busy facilities. Plus, it is designed to be durable and long-lasting, ensuring that you get the most value for your investment.
At Matguard, we understand that maintaining a clean and safe environment is of the utmost importance in your industry. That's why we have developed MatPro Cleaning Solutions to provide you with the tools and products you need to keep your facility in top shape. In addition to The Beast, we offer a range of other cleaning and disinfecting solutions, including sprays, wipes, and disinfecting foggers.

As a special offer to our readers, we are offering a 20% discount on The Beast and all MatPro Cleaning Solutions products when you use promo code BEAST2023 at checkout. Don't miss out on this opportunity to improve the cleanliness and safety of your facility.

Visit our website here for more solutions to learn more about The Beast and our other products, or to place an order today. We are confident that you will be satisfied with the quality and effectiveness of our products, and we look forward to serving you!
---