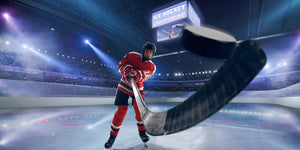 Keep Your Hockey Equipment Clean This Season With Matguard USA.
The smell of hockey equipment is notorious. It's not uncommon for everything to be drenched in sweat after a game because of the thick layers of padding. The problem is that most players throw everything into their hockey bag, zip it up, and don't open it until they need it again, which allows moisture and germs to flourish.
Follow these simple tips to ensure your hockey equipment smells great and lasts a long time!
YOUR BEST DEFENSE AGAINST ODOR IS OFFENSE
Without a very active cleaning regimen, it's difficult to clean and keep hockey equipment clean once it's really stinky. To prevent future odor problems, stick to a cleaning protocol after every practice and game as soon as possible. As a result, your equipment will last longer, which can save you a lot of money!
The name of the game is eliminating moisture. On your way home, leave the bag unzipped and roll your car windows down to increase ventilation- this helps more than you think! Remove hockey equipment from the bag immediately when you get home to begin the drying process. The sooner you do this, the less you allow moisture to fester. Also, wearing a base layer of clothing puts fabric between you and your hockey equipment and will limit the amount of sweat that soaks into your hockey gear.
CLEANING HOCKEY PADS- ELBOW PADS, SHOULDER PADS, PANTS, SHIN GUARDS
Shoulder pads, elbow pads, shin guards and hockey pants take a beating out on the ice in more ways than one. Direct contact with sweat and skin makes these pads a magnet for moisture and odor. To clean these hockey pads, spray them all over with a cleaning spray like Helmet & Pad Spray by MATGUARD®. while they're drying out. Unlike other hockey sprays, Matguard is free of harsh chemicals that irritate skin and ruin pads, such as bleach, quaternary ammonium compounds, and artificial fragrances.
CLEANING YOUR HOCKEY SKATES, GLOVES & HELMET
As far as sports equipment goes, hockey skates, gloves, and helmets smell the worst. Hockey gloves, skates, and helmets can't be thrown in a washing machine, so you need to be much more diligent when it comes to cleaning them. While they're drying, it's important to spray them down well with Helmet & Pad Spray by Matguard USA. Focus on spraying the inside of the skates and gloves. The helmet should be inspected both inside and outside. In addition to spraying them down with Matguard, be sure to wipe them down using Matugard Wipes.
WASH BASE LAYERS, HOCKEY JERSEYS, AND HOCKEY SOCKS
After emptying your bag and drying everything out, wash everything that's machine washable. This would include any base layers you were wearing, hockey jerseys and hockey socks.
Like washing any other piece of sports apparel or washing any other sports jersey, there are a few things you should keep in mind:
1. Make sure you wash them in cold water on a gentle cycle. This will reduce wear and tear.
2. Use a detergent designed for cold water. This will help maximize your cleaning power in cold water, which is usually tough.
3. Allow everything to air dry. Do not put these items in the dryer! The heat and tumbling will shorten their lifespan.
A STRONG, SAFE CLEAN
Let Matguard USA help you start fresh at every practice and game! Hockey equipment isn't easy to keep clean, but with our strong yet safe cleaning products and your proper post-game cleaning routine, your equipment will be fresh, clean and last a long time!
---