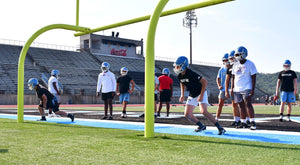 Keep Your Football Gear Fresh and Clean This Summer with Matguard: Essential Tips for Athletes
As the summer season approaches, it's essential to keep your football gear fresh and clean for optimal performance and hygiene. At Matguard USA, we understand the importance of proper cleaning and maintenance to ensure the longevity and safety of your equipment. In this blog post, we'll provide you with essential tips and techniques to effectively clean and disinfect your football gear this summer, ensuring a fresh and hygienic playing experience.
How to Clean Football Pads: A Step-by-Step Guide
Properly cleaning your football pads is crucial for removing sweat, dirt, and odor-causing bacteria. Here's a simple step-by-step guide to help you keep your pads clean and fresh:
Gather your supplies
Remove the pads from the equipment
Inspect for damage and make any necessary repairs
Use our helmet and pad wipes, wipe all areas. 
Hand wash or machine wash the pads if necessary. 
Air-dry the pads thoroughly
Apply Matguard's Disinfectant Spray
Cleaning Football Gear: Best Practices for a Fresh Start
To maintain cleanliness throughout your football gear, it's important to follow these best practices:
Helmet Cleaning:
Shoulder Pads Cleaning:
Gloves and Arm Sleeves Cleaning:
Cleats Cleaning:
Disinfecting Football Gear: Ensuring Optimal Hygiene
Disinfecting your football gear is crucial to prevent the spread of bacteria, viruses, and fungal infections. Follow these steps to effectively disinfect your equipment:
Remove any visible dirt or debris.
Use Matguard's Disinfectant Spray.
Allow the gear to air dry.
Do not store in a dark area, store your football pads in a room with sunlight. 
Be sure to use our disinfectant spray and our disinfectant wipes during and after games and practices. 
The Importance of Football Disinfectant Spray
Matguard's isinfectant Spray is a game-changer when it comes to maintaining the hygiene of your gear. Here are the key benefits of using our disinfectant spray:
Eliminates bacteria, viruses, and fungi.
Neutralizes unpleasant odors.
Safe for use on various equipment surfaces.
Convenient and easy to use.
Doesn't stain equipment.
No harsh chemicals.
The Matguard Difference: Why Choose Us?
When it comes to cleaning and disinfecting football gear, Matguard USA stands out. Here's why you should choose our products:
Trusted and proven in the sports industry.
High-quality formulations for effective cleaning and disinfection.
Extensive range of products for all your football gear needs.
Dedicated customer support and guidance.

As you gear up for the summer football season, don't overlook the importance of keeping your equipment fresh and clean. With Matguard USA's range of cleaning and disinfectant products, you can ensure optimal hygiene and longevity for your football gear. Follow our essential tips and techniques, and make Matguard your go-to choice for a clean and safe playing experience.

Remember, with proper cleaning and disinfection, you can focus on what matters most – giving your best on the field. Stay fresh, stay clean, and play like a champion with Matguard!


---