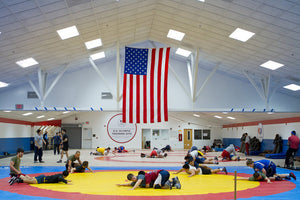 KEEP CLEAN AND SAFE LIKE AN OLYMPIAN
In less than two weeks, the best athletes from over 200 countries across the world will be gathered in Tokyo, Japan, to compete in the summer Olympic Games. But you already knew that! What you might not know about is the extent to which the Games are going to keep the staff and athletes safe. Of course, in these times of Covid-19, there is a long list of health and safety protocols in place to keep the thousands of Olympians safe as they travel to Tokyo and enter the "bubble" of participants. Competitors are being encouraged to avoid unnecessary contact with others, but the athletes will also be constantly sanitizing, and their equipment will be frequently disinfected. Because this is sports, contact with others will likely be unavoidable, so sanitizing and disinfecting will play an immense role in keeping the Games safe. These precautions will not only keep athletes safe from viruses but will also prevent infections from germs and bacteria that may be lingering on surfaces and equipment. 
Back here in the States, we can take some notes to prepare for upcoming seasons of high school sports. Whether it be Covid-19 or ringworm, there is always a risk of catching a virus or infection when traveling to and participating in sports competitions, especially at the high school level. This is because, at the high school level, much of the equipment and resources are shared and passed down from teams of the past. Mats, pads, helmets, jerseys, and more stay in programs for years, being used by dozens of different student athletes. Not to mention, teams share buses with other teams and students, subjecting athletes to the sweat and germs of many other people. So, even though they are just high school sports, it is important that these athletes prepare like the Olympians. To stay safe and allow students to continue to participate in the sports that they love, high school athletes should be provided with the proper sanitizers and disinfectants, just as the Olympic athletes are. 
Matguard can help this happen. Keep student athletes clean like an Olympian with Matguard's long list of FDA regulated sanitizers, disinfectants, and cleaners. For personal sanitizers that will rid germs from athletes' skin, check out Matguard Skin Disease Prevention products. Matguard's Helmet and Pad bacterial disinfectants are trusted by thousands of high school programs across the county, killing the harmful bacteria and germs that linger on sports equipment. Matguard also offers several hard surface disinfectants, such as MatPRO products, used to clean the frequently touched surfaces in the gym, locker room, and more. Recommended by coaches and athletic directors across the nation, Matguard products are sure to keep your team protected and help the upcoming Fall sports seasons run smoothly. 
---