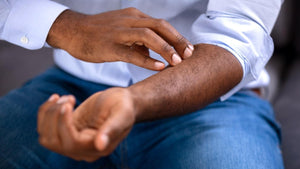 IS YOUR SANITIZER SKIN FRIENDLY AND EFFECTIVE?
Alcohol is a natural antiseptic that has been used in the medical field for over 100 years. Alcohol kills germs fast without water and evaporates quickly. Isopropyl Alcohol (Isopropanol) is often referred to as a "mechanical kill" and is a preferred way to kill a germ as it prevents cell mutation. 
Check your ingredients and ask yourself is your sanitizer safe and does it dry out your skin after multiple uses?  First, methanol is not an acceptable ingredient for hand sanitizers and must not be used due to its toxic effects. Secondly, most household shoppers buy what is easy and convenient to use. The biggest problem with many products on the market is they dry the skin creating a hospitable environment for germs and bacteria to grow. Finally, many products are gels and sticky which makes it almost impossible to play sports.
Over 5000 sports teams use and trust Matguard products, year-round. Patented Matguard formula has both an emollient and humectant designed to moisturize your body. It won't dry your skin even when used many times each day. It is also safe on skin and equipment.
Matguard products contain emollients which act to re-hydrate the skin by replenishing the moisture that is lost by washing, sanitizing, and exposure to chemicals and dry air. Our formulation also includes a humectant which is used to attract and draw moisture from the surrounding air helping to trap and bind it to the skin.
MATGUARD® antiseptic body wipes, sprays, liquid and foams contain a fast acting and highly effective patented formulation for killing 99.9% of the germs, viruses and bacteria that can cause diseases within the school and athletic community. Our entire product line is recommended for use by people involved in contact sports and physical activity in order to reduce the spread of disease and limit the cross contamination of the entire school population.
MATGUARD ® IS SKIN FRIENDLY.  MADE IN THE USA AND IN STOCK NOW!
---