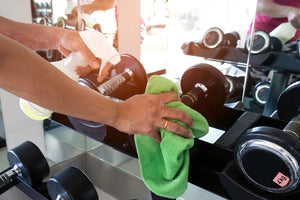 IS YOUR GYM OR FITNESS CENTER FOLLOWING NEW SAFETY PROTOCOLS?
Before the COVID Pandemic most gyms and fitness centers I visited were not "Germ Free" during peak hours. Many members I saw were bringing their own towels and wipes to use because dispensers were not properly attended too. But now that is starting to change for the better. There are new health and safety protocols, that must be followed to stay opened and it all begins with cleaning and disinfecting:
Clean commonly touched surfaces in restrooms (e.g., toilet seats, doorknobs, stall handles, sinks, paper towel dispensers, soap dispensers) frequently and in accordance with CDC guidelines

Conduct frequent cleaning and disinfection of site (at least daily, and more frequently if feasible)

Keep cleaning logs that include date, time, and scope of cleaning

Conduct frequent disinfecting of heavily transited areas and high-touch surfaces (e.g., doorknobs, handrails, equipment, etc.)

In event of a positive case, follow current CDC guidance on cleaning and disinfecting areas when someone has a COVID-19 diagnosis.

Open windows and doors to increase airflow where possible
All gyms and fitness centers may reopen indoor and outdoor spaces so long as they follow required CDC guidelines and disinfecting protocols. This also applies to health club facilities located in hotels, motels, condominiums, cooperatives, and corporate offices. 
As a gym owner or general manager, the last thing you want your guests picking up is a virus.  Nothing is worse for business than an unhealthy consumer experience at the gym.  Members visit gyms and fitness centers to work out, exercise and improve their health and physical fitness.  
You will start to see touch-free soap dispensing systems in high traffic and frequently touched areas that lets members know your gym or club is clean and professional. Touch-Free Wall Dispensers are being installed to comply with health and safety protocols. It serves as a versatile hand hygiene kit that is easily installed anywhere in your fitness facility.  The dispenser can function with both liquid and foam refills and be set up as a stand or wall dispenser.  
Matguard's custom size poly-resin wall-mount dispenser unit is easy to install in locker rooms, team rooms, weight rooms, gym and anywhere you want to have people access our patented FDA-approved body foams and sprays. Custom cartridges fit into MATGUARD dispenser units. 2000 application. Athletes spritz product on their hand and then wipe our non-sticky formula onto exposed skin from head to toe. Our formula will never dry the skin!
---