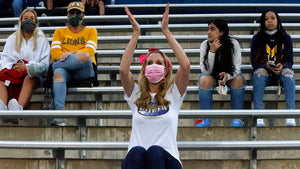 IS IT SAFE FOR FAMILES TO ATTEND PRACTICES OR COMPETITIONS?
In many communities we are finding group practices, competitions and gatherings are slowly coming back this season. If directed by the state and local government and your individual school district policy allows going to a practice or a competition, many school districts are recommending limiting exposure as much as possible.  If your family does go to practice or a competition, most recommend unvaccinated persons wearing a mask. As well as maintaining physical distancing measures, and having hand sanitizer available for personal use.  
We also found that most facilities, coaches, leagues, and tournament directors are monitoring directives. And or recommendations set forth by national, state, and local levels. 
In the case of our 5000 sports teams, they continue to disinfect frequently touched athletic surfaces with America's Number One Disinfectant Product, MatPRO Cleaning Solutions.  Its patented formula is concentrated, highly dilutable and easy to use …dilute 1 oz per gallon of water.
Matguard also makes a personal size antibacterial spray that is safe on skin and equipment.  Many of our sports teams' families who attend their practices and games bring and use our Antiseptic Hand and Body Cleanse Spray by Matguard. If you prefer a body wipe to a spray, Matguard offers an on-the-go canister containing 65 extra-large full body wipes. These are perfect for a complete body wipe down after every practice, game, competition, or athletic activity.  Learn more about our MATGUARD® XL Athletic Body Wipe (Patented 70% Alcohol Formulation).
---