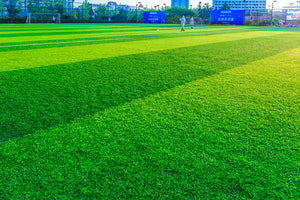 How TurfGuard Can Save Your Athletic Facility Money in the Long Run
As the makers of TurfGuard, Matguard USA has seen firsthand how our synthetic turf disinfectant can make a big difference in the health and safety of athletes. But did you know that using TurfGuard regularly can also save your athletic facility money in the long run? Here's how.
TurfGuard Helps Prevent Infections and Outbreaks
One of the primary benefits of using TurfGuard is that it completely disinfects synthetic turf fields. Further helping to prevent infections and outbreaks among athletes. When athletes are forced to miss games or practices due to illness, it can be costly for both the athlete and the athletic facility. By keeping your synthetic turf fields clean and germ-free with TurfGuard, you can help prevent these costly interruptions.
TurfGuard Reduces the Need for Harsh Chemicals
Many athletic facilities rely on harsh chemicals to clean and disinfect their synthetic turf fields, but these chemicals can be costly and harmful to the environment. TurfGuard, on the other hand, is a concentrated cleaner that can be diluted with water. Making it a cost-effective and eco-friendly alternative to traditional cleaning products.
TurfGuard Extends the Life of Synthetic Turf Fields
Over time, synthetic turf fields can become worn and damaged, leading to costly repairs or replacements. By keeping your synthetic turf fields clean and disinfected with TurfGuard. You can help extend the life of the fields and avoid costly replacements down the road.
TurfGuard Is Easy to Use
Another benefit of TurfGuard is that it's easy to use, requiring no special equipment or training. Simply dilute the product with water according to the instructions, apply it to the synthetic turf field, and let it sit for the recommended amount of time before rinsing it off. This makes it a cost-effective and convenient option for athletic facilities of all sizes.
Investing in TurfGuard Today Can Save You Money Tomorrow
Investing in TurfGuard today can help prevent costly infections and outbreaks, reduce the need for harsh chemicals, extend the life of your synthetic turf fields, and enjoy the convenience of an easy-to-use product. And with TurfGuard's cost-effective pricing, you can enjoy all of these benefits without breaking the bank. So why wait? Start using TurfGuard today and start saving money in the long run.

In conclusion, TurfGuard is a synthetic turf cleaner and disinfectant that can save your athletic facility money in the long run by preventing infections and outbreaks, reducing the need for harsh chemicals, and extending the life of synthetic turf fields. By investing in TurfGuard today, you can enjoy all of these benefits and more, while also helping to keep your athletes safe and healthy.
---