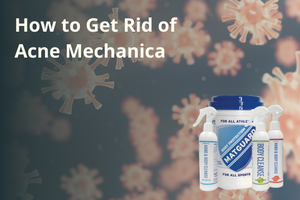 How to Get Rid of Acne Mechanica
Acne Mechanica, also known as "frictional acne," is a common skin condition triggered by heat, pressure, and friction against the skin. It often appears in areas where there's prolonged contact between clothing, equipment, or other objects and the skin. This type of acne can be particularly frustrating, but the good news is that there are effective ways to treat and prevent it. In this blog post, we'll explore various strategies to help you bid farewell to Acne Mechanica and welcome healthier skin.
Understanding Acne Mechanica
Before we dive into the solutions, let's first understand the ins and outs of Acne Mechanica. This type of acne is characterized by small, red, and sometimes painful bumps on the skin's surface. These bumps can appear on various parts of the body, including the back, forehead, and other areas prone to friction. The friction, pressure, and heat cause irritation and clog pores, leading to the development of these pesky bumps.
Identifying Acne Mechanica: Pictures and Locations
Wondering if those bumps on your skin are indeed Acne Mechanica? Let's take a closer look with some pictures and descriptions to help you identify this condition. Keep in mind that if you suspect you have Acne Mechanica, it's always best to consult a dermatologist for a proper diagnosis. Acne Mechanica pictures are listed above. 
Home Treatment for Acne Mechanica
When it comes to treating Acne Mechanica, there are several effective home remedies you can try. These treatments aim to reduce irritation, unclog pores, and promote healthy skin. Remember, consistency is key, and it might take some time to see noticeable improvements.
Prevention: Keep Acne Mechanica at Bay
"Prevention is better than cure" holds true for Acne Mechanica as well. Taking proactive steps to prevent the condition can save you from future frustration. Here's how you can keep those friction-induced bumps away:
Maintaining a Healthy Skincare Routine
In addition to the specific treatments and prevention strategies mentioned above, maintaining an overall healthy skincare routine is essential. Follow these simple steps to promote healthy skin:

Acne Mechanica might be a common concern, but it's not something you have to live with. Whether you're looking for acne mechanica pictures, or treatments, we have you covered. By incorporating the right treatments, prevention strategies, and skincare habits into your routine, you can effectively manage and prevent friction-induced acne. Remember, consistency and patience are key to achieving clear and healthy skin. If you're looking for effective disinfectant products to aid in your fight against Acne Mechanica, explore Matguard's range of reliable solutions. Say goodbye to friction-induced acne and hello to smoother, happier skin!
---