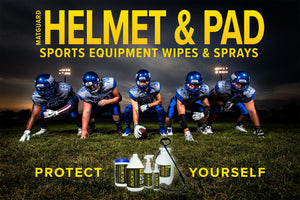 Helmet and Pad in the NFL
Playoffs:  What a wild finish to the NFL playoffs! We are down to the last 2 teams; the Bengals and the Rams are headed to the Super Bowl! After hard fought battles, doubts, and hype of these playoffs the Bengals and the Rams will face off in what will be an amazing finish to the 2021 NFL season.
Helmet and Pad in the NFL: Out of the final 8 teams in the playoffs, 5 of those teams use Helmet and Pad. This goes to show that our product is used at the highest level, by professional athletes. The Bengals are users of Helmet and Pad. Is that the reason they are heading to the Super Bowl? Maybe. Feeling safe in their own equipment could have relieved some stress and helped them succeed when it mattered most. Make sure to protect your equipment like the pros and pick up some Helmet and Pad.
How does our product protect your body?
Over 5000 sports teams use and trust Matguard's body wipes to prevent skin infection and Matguard's Helmet and Pads to wipe or spray down their gear to stop the spread of germs and viruses. Also, check out Matguard Athletic surface disinfectants and cleaners for your everyday cleaning. To learn more about how Matguard is effective against a broad spectrum of germs & viruses, click here.
---