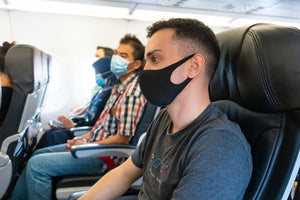 Have to Fly for the Holidays? Learn from My Experience.
 This year, "Have yourself a merry little Christmas" has taken on a whole new meaning. With the combination of flu season and COVID-19 cases on the rise, many people are deciding to spend the most wonderful time of the year with just their inner circles.
As much as we will miss the neighborhood Christmas parties and big family gatherings, it would be wise to follow the CDC and other recommendations and stay put this year, so we can spend many more Christmases wrapped up with our loved ones.   
However, if you've already asked yourself the "Should I Travel?" questions and have decided that yes, it's still safe or necessary for you to travel, consider driving to your destination. If you need to travel by train, bus, or air, as I did last week, here's what you can take away from my experience:
The Gate-to-Gate experience felt safe.

I was comforted by

studies

that show that constant air filtration, diligent sanitization on behalf of the airline staff, and mandatory mask-wearing greatly reduce the spread of germs, making airplanes a relatively low-risk environment.

Flying is a lot more than the Gate-to-Gate experience.

Here's what I

hadn't

read in all of the blogs about flying. Think about all of the stops before actually being on the plane: transport to the airport, the ticket counter, passing through security, customs, and waiting at your gate. While I tip my hat to all of the airport personnel doing more disinfecting than ever, it was in those non-plane places where I whipped out my

Maguard surface wipes

, which I had packed in a Ziploc bag. Wiping down my seat at the gate, the ticket counter where I had seen people leaning, and even my passport, helped me stay protected.

The bins used in the security line seemed the germiest.

While there were less people on my flight, there were tons of people passing through the security line. We kept our distance in line, but I didn't see anyone wiping down used bins before placing them at the front of security to be used again. With all of the pressure to keep the line moving, I didn't have time to use my surface wipes before throwing my bag into one of the bins and pushing it down the line. Instead, after collecting my things and before putting my shoes back on, I made sure to use my

hand and body sanitizer

immediately after contact with the bins.

Keep your wipes and sanitizer handy

. Nothing's more frustrating than fumbling around in your carry-on for something important. Keep your bag of surface wipes and hand sanitizers within reach so you can use them frequently.
It took conscious effort to have a safe flying experience, but I'm confident that it was worth all of the precautions. Santa knows that an end to the pandemic is #1 on everyone's wish list this year… We'll just have to be on our best behavior, practicing proper sanitization techniques, while he's working on it!
This post references the
CDC Guidelines for Domestic Travel
.
---