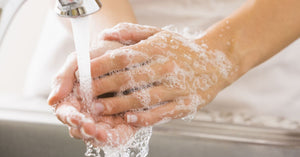 Hand-Washing vs. Sanitizing
If there's one thing we hope sticks around long after 2020 and COVID-19 are gone, it's people's attention to personal hygiene habits. Frequent hand washing and sanitation have always been a proven way to keep ourselves and others healthy, and now we're following the recommended guidelines more than ever.
Wondering which practice is better? Well, almost all doctors would agree that the best alternative is to later up your hands with warm water and a simple soap. Hand-washing, when done correctly, is more effective against a few particular viruses, such as norovirus.
However, we don't always have access to a sink, and this is when sanitizer becomes crucial. Neha Nanda of the University of Southern California says, "Hand sanitizer can be more portable and accessible when people are on the go, which can increase the number of times they are able to disinfect their hands. This can help reduce the likelihood of transmitting viruses".
So when you find yourself out of the house, don't find yourself without sanitizer. We frequently  touch our faces and we touch countless surfaces, even if we're trying not to. Keeping our hands clean until we can return home to a sink is critical in the battle against viruses.
Why wouldn't people sanitize? Most people are more than happy to oblige, but are uncomfortable with the homemade alternatives that many stores and restaurants give upon entering. What ingredients do they have? Why are they so sticky and gross?
The best alternative is to carry your own. One that you can trust and one that you like the feel of. Matguard's sanitizer isn't just for surfaces! Our 70% alcohol formulation spray won't leave your hands oily, sticky, or dry, it'll just leave them clean.
This post references
cdc.gov
,
The Guardian
, and
Allure
.
---