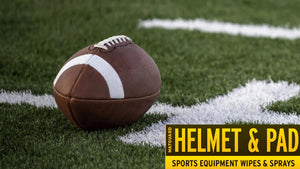 Football Is Back!
Football season is here! This season, don't let skin disease or even COVID get in the way.
The smallest issue can end up causing your team to miss games and negatively affect your season.
It is important this season to play it safe. Protecting athletes from skin infections and maintaining proper skin hygiene, while also keeping helmets and pads clean, are both crucial parts of the game.
Use Matguard and don't miss a game this season. Developed with FDA regulation, Matguard's products kill both MRSA and Ringworm.
Matguard has been proven to be effective against a broad spectrum of germs and viruses. In addition to providing skin hygiene, our products also provide surface protection. Matguard won't break down your equipment and dries quickly without sticky residue.
Check out our Helmet and Pad collection today, including our Helmet + Pad Spray, and Helmet + Pad Wipes.
Don't get caught off guard…. Get Matguard! 
Matguard's goal is to provide the best quality, easiest to use, and affordable products available, while playing an integral role in educating how to protect against infectious diseases and cross-contamination of equipment, reducing the effects of bacteria on the skin.
Matguard uses a proprietary 70% alcohol based formulation that has several patents, making the product different than any other available on the market. Matguard's patented products include 70% alcohol in addition to beneficial skin emollients that add moisture and will not dry the skin. That's the Matguard difference!
---