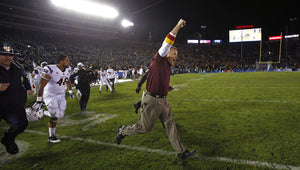 COVID-19 WON'T SHAKE COACHES' DESIRE FOR A 2021 FOOTBALL SEASON
High school football coaches and their teams are prepared for the 2021 football season.    Coaches were battle tested in 2020 in ways they never imagined.  Bottom-line: Coaches rose to the challenge of raising health and safety protocols to allow them to safely limit preseason workouts. As well as move, shorten, or cancel games when required.
Coaches are leaders who have a reputation for adjusting. And they meet high expectations doing whatever it takes to keep their team safe and make the 2021 season the best it can be.  
Fall practices are now days away. Most Coaches and fans want their athletes to have a normal football season. Even if this means once again, they need to battle adversity and fight more COVID variants on the field and in the classroom. 
Covid-19
COVID took games away and changed the mindset last year of many coaches and parents. But also remember, Football has always fought staph infections and infectious skin diseases for decades.  Sure, COVID is much more serious and required us to wear a mask and social distance where possible. But what did not change was the need for disinfecting frequently touched surfaces with high quality and well-known brand disinfectant wipes and sprays. 
COVID is still out there and so Coaches and Athletic Directors continue to do what they can control.  Over 5000 sports teams we know use Helmet and Pad Disinfectant Wipes and Sprays by Matguard to kill COVID and other infectious skin diseases during summer and fall workouts.  
Matguard also protects your athletes in the classroom and weight/locker rooms. Check out their Hand and Body Cleanse which is better than a sanitizer. Matguard's Premium Surface Disinfectant products keeps your athletic surfaces free from 99.99% harmful bacteria and viruses and MATPRO's highly concentrated surface cleaner is the professional choice for disinfecting after workouts, games and practices.
---