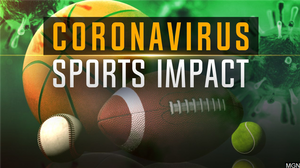 COVID-19 Protocols and Better Measures are in Place for Collegiate and High School 2021 Season
As you know, both indoor and outdoor sports were shut down March 2020 across the U.S.  The suspension of sports lasted six to eight months.  Only some states allowing fans to attend games with limited capacity. The COVID-19 pandemic took a toll on all sports, coaches, athletes, families, and fans.  
The good news in 2021, all sports teams have taken extra precautions in order to get back to playing. Each team has elevated their health and safety protocols to slow down and stop the spread of coronavirus.  Each Coach quickly learned disinfecting was as important as masks, social distancing and testing. Over 5000 sports teams trust and use Matguard's athletic surface disinfectant cleaners.
Testing measures have improved too. Anybody designated as Tier 1 is subject to regular testing which includes all student athletes, coaches and staff who are in the facility, on the bench or sideline.  However, you may not know testing varies per sport and funding varies per institution. We found more funding leads to more testing and disinfecting with better quality products. 
Sports' risks vary. Wrestling, football, and basketball require a lot of physical contact with the opponent, which is why these sports are considered high risk.  Golf, cross country and outdoor track are considered low risk sports because they are individual-based, and everyone is socially distanced.  Intermediate risk sports are baseball, soccer and indoor track and field. These are team sports that have some aspect of social distancing associated with them.  
Bottom line, regardless of whether your sport is high or low risk, always disinfect: 1)  hands and body with Matguard's Hand and Body Cleanse  2) equipment,  game balls, helmet and pads with fast drying  Helmet and Pad Wipes and Sprays by Matguard and 3) frequently touched athletic surfaces with  Matguard's athletic surface disinfectant cleaners .
---