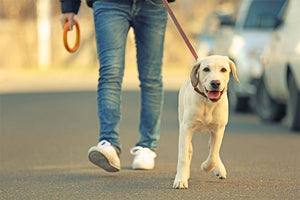 COVID-19—Dog Walking in the Neighborhood
I want to share with you my highlights of my last 30 days without sports while working from home with my two dogs. We are stocked up with plenty of groceries and dog food. I have plenty of disinfectant sprays and wipes to keep me safe.
I enjoy walking my dogs now more than ever and I can confirm my neighbors do too. An escape from cabin fever. It's funny how our dogs sense and obey social distancing rules. In this time of uncertainty, we are quite neighborly. But now we speak through our masks and keep our distance. Many of my neighbors are nurses at the local hospital and they are the true heroes.
I gaze at the variety of the professional protection gear everyone is wearing. I have my body wipes and spray, no gloves and sometimes a homemade mask. Some dog walkers are amazed and avoid me at all costs. Others straight out ask me through their masks, why don't you wear gloves and wear a more protective mask?
I have become now quite animated with my answers. I first bring up the shortage of the supply of masks and proper gloves. I remind them that the frontline staff should be the ones with all the gloves, masks and gowns. I tell everyone we can still mitigate COVID-19 by spraying our hands with 70% alcohol-based products that are safe on your skin and effective. I am doing my part.
On my walks, I have learned how... "COVID-19 is a wimp". Not my words, I quote ICU Lead Doctor David Price at Cornell-empo. But my neighbors and other dog walkers have to ask, "what do you mean COVID-19 is a wimp?" I tell them it only takes a drop of hand sanitizer to kill the virus immediately. Again, Doctor David Price's words, not mine. My experience is yes if it is 70% alcohol-based. The neighbors next ask, "then why are we told to wash our hands every 20 minutes, 20 seconds at a time? Another question, I have no answer to. I just spray my hands and continue on walking my dogs.
At the local grocery store, I run into some of my neighbors which are getting harder to recognize with everyone wearing masks. And harder to understand too. You know the drill —only a few people at a time are allowed in to avoid overcrowding. When one comes out with their one per customer toilet paper, the supermarket lets the next shopper in.
As I enter my supermarket and grab a shopping cart, I immediately wipe down and spray my cart. Much better than the Lysol they have at the door. Then I see 6 feet away from me, someone wearing a mask that I don't recognize, says to me "I see you have your 70% Alcohol based spray and wipes?" I paused and then realized the person behind the professional gear must be my neighbor. As they walked away.
Perhaps I should have told my neighbor you can't buy 70% Alcohol-based product in a supermarket, but she hurried off to buy the last bundle of toilet paper.
For the readers of this blog go to www.Matguardusa.com to get your 70% Alcohol-based sprays and wipes.
MATGAURD KILLS COVID-19
---