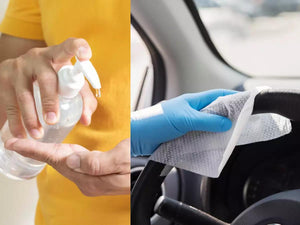 Buyer Beware…No two sanitizer brands are alike
Shoppers should do their due diligence on disinfectant sprays and wipes
Matguard has been in the sports antibacterial and disinfectant business a long time. For almost 14 years, Matguard has been successfully protecting athletes and over 5000 sports teams. But what is different today than ever before is how many alcohol- based and DIY products have entered the market in a short period of time.
Scary right? Just how many of these new products were tested on humans? And what are the long-term effects on skin and equipment? Too early to tell is our guess. Whereas, Matguard has not had one incident with any of our athletes in our long history.
As you can see from this recent article below there are dozens of cases where the FDA warned against using these sanitizer brands. Because they could contain toxic wood alcohol:
See what the FDA found on other sanitizers and what CNN reported
Matguard's bleach-free patented 70% isopropyl formula is non-irritating solution to safely clean and disinfect equipment and ensure a long-life span for all your athletic gear. We are covered under an EPA sub-registration and adhere to all EPA protocols for disinfecting and harmful pathogen infection spread.
There is a reason why Matguard is America's #1 Sports Antibacterial & Disinfectant Products: Our FDA and EPA regulated formula is safe on skin and equipment and kills the funk on both. We specialize in sports, where athletes sweat and are at risk for getting and spreading skin diseases. Matguard kills MRSA, staph, impetigo, ringworm, and bacteria. Matguard is scientifically proven to kill LICE, Nits and Bed Bugs. And…prevents "Helmet Acne".
Most teams, schools, gyms, and studios buy our Gallon Size. Our most economical size and almost always in stock. Our gallon size will decontaminate and clean over 500 Helmets and Pads. Use 2-3x a week for best results.
Premium Ready-To-Use Disinfectants Now In Stock
---