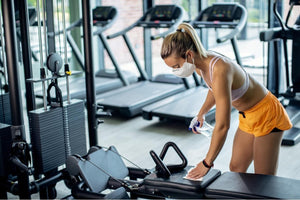 Back to the Gym... Are you Ready?
When it comes to returning to gyms, the jury's still out. In a late November study of 10,824 gym members, 46.67% of people surveyed said they won't be returning to their gyms any time soon, even if they're open. A different study of crossfitters this month showed that 63% do feel comfortable going back to the gym.
We're far from a consensus on the issue. And for many, the decision will be made based on whether they think their gym is meeting disinfection standards.
If you're one of the roughly half of people who's considering getting back into the gym to work off those extra holiday pounds, there are a few things to consider.
The first and most important is your current abilities. When exercising in a gym for the first time in a long time, exercise caution. You may want to consider starting off with a lower weight than you used the last time you were in the gym. There are also certain HIIT movements that could do more harm than good if you're easing back into intense exercise. Take it easy and don't do anything you feel you're not ready for yet.
The second has to do with risk of airborne transmission of viruses. Strongly consider wearing a mask, if it's optional in your gym, or comply with your gym's mask rules if they have them. This is a key way to keep yourself safe and make sure gyms stay open long into your 2021 New Year's Resolution.
Finally, even if you think your gym's doing a great job disinfecting equipment, you can never be too careful. We recommend bringing your own sanitizers that you can trust. Count on Matguard's 70% alcohol, hospital grade
surface wipes
to wipe down your equipment before and after use. Since gym showers are mostly closed for the time being, don't wait until you get home to disinfect. Matguard body wipes or
8oz sanitizers
fit nicely into your gym bags and work to kill bacteria and germs until you can hit the showers.
---