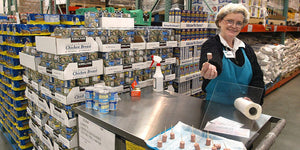 ARE GRAB-AND-GO FOOD DEMO CARTS COMING BACK IN STORES?
Before the coronavirus breakout a year ago, product samples on demo carts were a big draw for retailers' loyal shopper. Now you will find these demo carts have been turned into sanitizer stations with a store employee checking for masks. Some retailers are using their carts as additional endcaps, which many of them look sad and empty. The friendly face and service behind the cart is missing. And are they as clean and safe as before?
What we found as the new normal in 2021…some stores are offering demonstrations rather than food samples. We also found in some cases, grab-and-go style works, when appropriately staffed and frequently touched surfaces are properly disinfected.
It is important to note, pre-covid, all in store demo carts were pulled at the end of each day and completely cleaned and sanitized, and back out there the next morning. This process also applied to demos that were handing out full-size dry-good items for members to sample. The cart was just another frequently touched surface that was routinely sprayed and wiped down with a highly concentrated disinfectant like MATPRO Cleaning Solutions. 
What has changed in one year, almost every shopper or member carries their own personal size sanitizer, which is applied frequently in store. I know it puts me at ease, when I touch a shopping cart, a freezer door or check out. Just make sure your sanitizer includes 70% alcohol in addition to beneficial skin emollients that add moisture and will not dry the skin. 
Not all anti-germ products are the same. Matguard's 8 oz hand and body cleanse is better than a hand sanitizer. Matguard contains a pharmaceutical grade emollient to restore the moisture level naturally found in skin. Comes in several fresh scents and is in stock now!
---