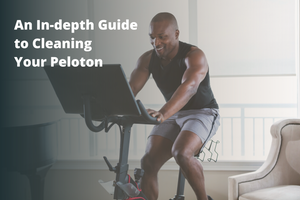 An In-depth Guide to Cleaning Your Peloton
Owning a Peloton means committing to a fitness journey. But just as you take care of your body, you must also know how to clean your Peloton. Proper maintenance ensures longevity and a smooth ride every time. In this guide, we'll explore the best practices for peloton cleaning and how to keep every part of your bike in top shape.
Why Cleaning Your Peloton Matters
Every sweat session leaves behind residue. Over time, this can lead to wear and tear. Regular cleaning not only keeps your bike looking new but also ensures it functions perfectly. Plus, using the right products, like those from Matguard USA, guarantees a safe and effective clean.
Cleaning Peloton Handlebars
The Right Way to Clean Peloton Screen
Maintaining a Clean Peloton Bike Frame
Additional Tips for Cleaning

With regular maintenance and the right products, you can ensure your bike remains in top condition for years to come. Remember to always use quality products like those from Matguard USA for the best results. Whether you're wiping down handlebars or cleaning the screen, every step contributes to a better Peloton experience. So, grab your peloton cleaning wipes and start cleaning today!
Best Products for Peleton Disinfecting
---