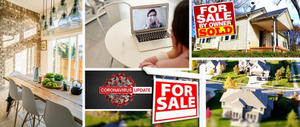 A Clean House Today Takes On A Different Meaning Since The Pandemic
In this COVID Era, people are still buying and selling homes. Some by choice and some not so lucky. Either way you are probably concerned that this is not a great time to list your home on the market.  
Once the decision is made to sell your home, be assured your real estate company follows CDC  guidelines for cleaning and disinfecting your home. Including wiping down all frequently touched surfaces with disinfectant and some go out of their way to put out an array of cleaning products, so visitors can see and use them, such as hand sanitizer and disinfectant wipes.  
Most real estate agents understand it takes a well thought out plan to get potential buyers to tour a home. It starts with a pre-showing cleaning checklist to ensure sellers and buyers take the required steps to protect their own and other's health when their home is on the market. 
Key Takeaways:  
Create a plan with all parties about how to minimize the risk of COVID-19 infection during each transaction. 

Communicate, promote, and execute the sanitation steps you will take for each listing.

Make sure a reputable surface disinfectant is used such as Matguard's

32 oz surface spray-cleaner

Masks and gloves should be provided at the door, along with booties(optional) to show hygiene measures are taken and to ease the sellers concern about COVID infection from in person showings. It will show that the seller and real estate agent went that extra  mile for their safety. 

Recommend Matguard's

8oz-personal-size-sprays

hand and body sanitizers to be used  and made accessible in the home 

Share pre-showing cleaning checklists with sellers so they can be prepared at a moment's notice and to help ensure 100% compliance to checklists

Whether you drive separately or with your agent have Matguard's

antiseptic-body wipes

visibly available  

Limit number of people per showing and no touch zones are without saying but should  be on the checklist and enforced 

Learn the best practices for using a lockbox during COVID-19 and wipe or spray down  after each use 
A clean house today takes on a different meaning since the pandemic. More than ever, we are all realizing that cleaning plays an essential role in public health. Real estate professionals are trusted partners. They now help put buyers' and sellers' minds at ease at each home visit.  
Finally, promote the steps you have taken for each listing. Promote and provide the MLS with highlights about how they are sanitized before each in-person showing. Remember to include your social media channels.  
Stay Safe!
---