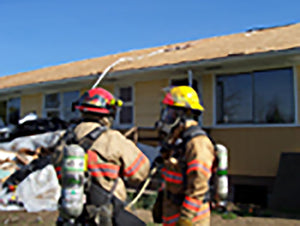 MRSA EXPOSURE FOR FIREFIGHTERS, MEDICS GREATER THAN FOR GENERAL PUBLIC: UW STUDY
Firefighters and medics may be, perhaps not surprisingly, at a higher risk for carrying methicillin-resistantStaphylococcus aureus (MRSA) than the average person, according to results from a new study conducted by Marilyn Roberts, a University of Washington professor of environmental and occupational health sciences. Roberts, a microbiologist, recently conducted the first-ever environmental health study on MRSA in Northwest fire stations and on fire personnel to determine the extent of related contamination.
In the last ten years, the number of hospital- and community-acquired MRSA infections—those often contracted in schools, public gyms, and in workplaces--has risen. Because MRSA can be transmitted from surfaces to people and from person to person, the increase in incidence has led to concern for first responders, including police, firefighters and emergency medical personnel. Fire personnel interact with both hospital and community populations as part of their job and have the potential to be exposed to MRSA as part of their daily duties.
"Firefighters and paramedics are at the crossroads between the public and hospital environments," said Roberts. "Their job includes administering first-response care to patients, many of whom are more likely to be MRSA carriers or have MRSA infections then the general population. This puts them at increased risk for MRSA infections."
Roberts found MRSA in four percent of more than 1,000 samples collected from surfaces inside Snohomish County fire stations, medic and fire trucks, and outer protective gear. But in each of the nine areas sampled, at least one sample tested positive for MRSA, and both hospital- and community-acquired MRSA were found.
---