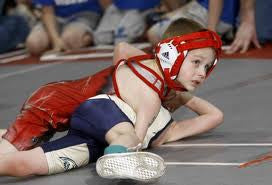 10 Reasons Why Kids Should Wrestle
Introduction by Rebecca S.
I always wonder what sports my kids would end up being involved in. Mind you, I don't even have kids yet, but I do often think about it. Blame it on baby fever! 
Sports definitely play a significant role in molding a child. It gives valuable life lessons and help instill hard work, confidence, and that valuable lesson of winning/losing and never giving up! I honestly didn't fully understanding the sport of wrestling until I started working at Matguard. Now I can assure you, I am the biggest fan! 
Matguard is big in supporting and protecting the sport of Wrestling. Our team makes sure we are involved in anything wrestling related. You will find us anywhere from a local competition, Las vegas wrestling tournaments with USA Wrestling, and just recently the 2016 USA Wrestling Olympic Trials in Iowa City! We LOVE the sport!


We wanted to share the article below to educate the public on why your kids should wrestle (if they aren't already)! Obviously, there are more than 10 reasons why, but don't get us started. Not to mention that wrestlers make the best employees (but i'll save that for another blog post). We have a few wrestlers in the office, so I can vouch for that statement.
Also, parents, don't forget to protect your kids with Matguard! Click the products below to see why you need it! Help us promote germ free sports and protect the sport of wrestling! 
Have any other questions. Ask us anything! We are more than happy to help!
Happy Reading! 
10 Reasons Why Kids Should Wrestle

By Justin Ruiz

Via http://fortiuswrestling.com

Wrestling is a great sport that teaches athletes so many valuable lessons about sport and life in general. Dan Gable, legendary University of Iowa coach, World, and Olympic Champion; is quoted as saying "Once you have wrestled, everything else in life is easy." I still think that life can continue to throw powerful punches and challenges, however, I am in agreement that wrestling is a sport that teaches hard work and personal accountability. If one fails on the wrestling mat, there is no one else to blame but the individual. It is hard to blame a coach or a teammate for a sub par performance, and wrestling forces an individual to look inward to see what you're really made of. Here are my top ten reasons why kids should wrestle.
---