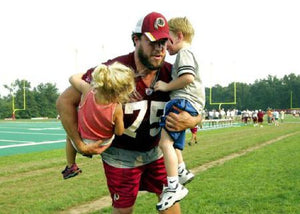 Why sports can be a breeding ground for dangerous MRSA infections
By: Johnette Howard, ESPN Staff Writer
Photo Above: Brandon Noble recovered faster from three torn ligaments, including his ACL than from MRSA infections.
NEW YORK — Brandon Noble is 10 years removed from his seven-year NFL career and now works near Philadelphia as a financial adviser. But the formerDallas Cowboys and Washington Redskins defensive tackle wasn't surprised when a reporter tracked him down Wednesday to discuss New York Giants tight end Daniel Fells, who has become the latest athlete to be diagnosed with MRSA, a frightening, antibiotic-resistant staph infection that can result in multiple surgeries, amputations and, rarely, even death.
"I've been waiting for my phone to ring," said Noble, who was forced to retire from the Redskins in 2006 at age 31 after surviving two harrowing bouts with MRSA, the first after what was supposed to be a "minor" knee cleanup procedure.
"Until I had it, I'd never heard of it, I didn't have a clue," Noble said. "MRSA was relatively new to the general public. So when you're laying there in a hospital bed and they're telling you about it for the first time, that makes it even scarier. The look on the doctor's face lets you know it's really serious. Then when they tell you we don't know exactly what to do or what drugs will work to fight it, you really start sweating.
---