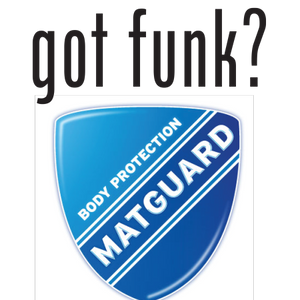 Got Funk? Matguard can help!
WHAT IS SKIN "FUNK"?
Funk is the generic term many wrestlers and coaches use to refer to skin disease, one of the chief enemies of the sport of wrestling. It's that hidden opponent no body wants to talk about and no wrestler wants to lose a match to! Matguard is committed to not only protecting the sport of wrestling but to also protect our current and future athletes! Our "got funk?" campaign is geared towards increasing skin disease awareness and prevention. Together we can PIN THE FUNK!
Funk, as much as we would wish it's just a music genre or a new style of wrestling, well, unfortunately, it's in every sport and more common that we know. From the spread of MRSA in the sport of Football, to Ringworm, Herpes, and Impetigo, these skin diseases are not only spread through physical contact but can also live and breed in sports equipment and gear (learn more about these skin diseases by clicking on it).
THE USUAL SUSPECTS
PREVENTION:
Know your funk facts and let us help you prevent it! We have included extra articles below to help educate you about protecting your athletes. Let's be proactive and let us help you learn how we can protect your Athletes and children! Matguard's Body Protection Line (the only one endorsed and used by USA Wrestling) kills MRSA, staph, impetigo, ringworm and bacteria. Our Helmet and Pad by Matguard Sport's Equipment Wipes and Sprays disinfects and cleans all sports gear and uniforms.
FIND OUT MORE ABOUT HOW MATGUARD WORKS!
CONCERNED ABOUT ATHLETE HEALTH?
Mats can be a breeding ground for dangerous skin disease causing bacteria. Improper or infrequent cleaning can cause serious, even season ending infections for your wrestlers or athletes. Your competition isn't the only enemy on the mat, when bacteria is lurking. The only way to get rid of this bacteria is proper cleaning and the use of chemical that contains high amounts of alcohol, but still is safe to use on your equipment. Helmet & Pad by Matguard offers products that can ensure that your equipment and mats are safe from infectious diseases and bacteria.
LEARN MORE ABOUT ATHLETIC SURFACE CLEANERS
BROWSE OUR PRODUCTS
WATCH RELATED ARTICLES/VIDEOS:
http://www.news-herald.com/general-news/20110210/high-school-wrestling-skin-disease-is-a-hidden-opponent-with-video
http://wrestling.isport.com/wrestling-guides/common-wrestling-skin-diseases
http://wrestling.isport.com/wrestling-guides/preventing-skin-diseases-in-wrestling
http://www.millennialinflux.com/how-can-my-personal-experience-with-mrsa-help-you/
---