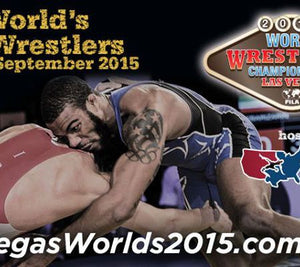 2015 World Wrestling Championships
Punch your ticket to "Pin City" Las Vegas for the 2015 World Wrestling Championships
MATGUARD USA IS GIVING YOU A CHANCE TO WIN A TRIP TO EXPERIENCE THE 2015 WORLD CHAMPIONSHIPS!
BROUGHT TO YOU BY MATGUARD, THE USA'S LARGEST BODY WIPE MANUFACTURER
Prize includes: 2 Tickets, Air fare, Accomodations, and Passes to exclusive events!
From September 7-12 the excitement of Las Vegas leaves the tables and goes onto the mats for the 2015 World Wrestling Championships. Enter our sweepstakes to win a trip for all 6 days of the event, because you are not going to want to leave the mat when team U.S.A goes on a heater.
As the best wrestlers in the world prepare to go all in for a shot at the world title, your chance to experience it all live in Las Vegas starts here.
Increase your chances of winning by inviting your wrestling community (coaches, teammates, booster clubs, and fellow wrestling fans)
Don't forget to social share! Use #2015Matguardexperience Good luck!
Click the link below to enter the contest:
DRAWING WILL BE HELD ON: Sunday, August 23, 2015
WINNER WILL BE ANNOUNCED ON: Friday, August 28, 2015
---