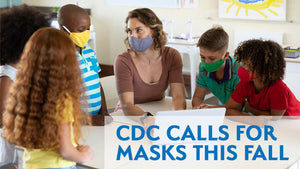 NO MASK, NO PROBLEM, WE'VE GOT YOU COVERED
Masks are selling out in some COVID-19 hot spots with the delta variant surging, the rise in infection rates and new mask mandates. In turn, government officials have started to reinstate health protocols from earlier in the pandemic. Such as wear masks and continue to wash your hands with soap and water. And when soap and water is not readily available use a hand and body cleanse and continue to disinfect frequently touched surfaces. 
This mask shortage is among the many shortages endured by the United States over the last year or so and again over the last month. Many citizens look to protect themselves from potential transmission of the coronavirus. As a result, this increase in sales has left many shelves empty, including children masks. Several other large retailers have reported an increase in searches for masks on their websites, as well. There are also others who don't wear masks. The good news is we are finding many families, coaches and athletes do wash their hands more often with soap and water and continue to sanitize and disinfect frequently. 
Sanitizers and disinfectants are portable and effective, able to kill off germs and viruses quickly. Germs and viruses spread very easily through the touching of a surface followed by the touching of one's hand, face, or mouth. 
Bottom-line: Shortage or not, this upcoming season of high school sports will have mixed results, …whether they wear a mask or not. But you can bet faculty and coaches will be disinfecting throughout the school. 
Check out below what over 5000 Sports Teams are ordering for this fall season:
When soap and water is not available they use Matguard's Hand & Body Cleanse spray to kill germs and mitigate the spread to other students and players. Unlike other sanitizers, Matguard's patented formula never dries out your skin. 
For equipment cleaning, they use and trust Matguard's industry leading Helmet & Pad Disinfectants. It is fast drying, safe on skin and equipment. Does not leave a residue.
High Schools prefer a high concentrated formula when disinfecting large areas, like weight and locker rooms. They use Matguard's MatPRO Cleaning solutions   that are ideal for cleaning the many high-touched surfaces that surround you and your team.
---