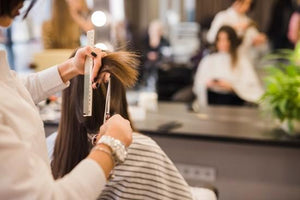 I Got My Hair Cut, Here's What I Wish My Salon Did
Whether you own a salon or are going to one, sanitization is more important than ever.
Let's get one thing straight: I'm not a germophobe. But with the spotlight on Coronavirus this year, I've been more aware than ever of the little things we do every day that spread germs, and with them, viruses and infections.
One of those things was getting my hair cut. Since hair professionals are used to protecting against the spread of illnesses commonly contracted in salons, like Conjunctivitis (pink eye), lice, strep throat, and the common cold, I trusted that my experience would be a sanitary one. However, I was left wanting more in terms of knowing what my salon was doing to keep us all safe. 
The contact. While I'm sure my hairdresser had washed her hands or sanitized them, I would have loved to see her do that before she began touching my hair. I also wanted to sanitize my own hands but didn't want to bother her. Having a sanitizer like Matguard's 8oz Hand and Body Cleanse that's fast drying and smooth and gentile on skin while tough on germs at her station would have made me feel a lot more comfortable.
The chair and tools. During the experience, I saw someone passing a dry rag over the chairs to wipe away hair before the next customer entered. My salon must not have known there are a couple great surface disinfectant wipes in the market that comes in a cannister. Or perhaps, her supplier or store was out of stock. This is not case with Matguard Wipes which are in stock and you can order online. And you don't have to be an athlete to use them. They are safe on skin and surfaces.
According to the Board of Barbering and Cosmetology, many diseases, like ringworm, can be transferred by touching infected materials, which includes chairs. Having an EPA-registered disinfectant and using it often, and in front of customers, on chairs and tools, assures germ-free experiences for everyone.
If you own a barbershop or a salon, you've been going above and beyond to prevent the spread of diseases for your entire career. What is different? Your customers might show interest in the measures you take and a peace of mind.
Matguard is not just for sports, check them out
.  Our EPA-registered products suit your sanitation needs perfectly. Check out our
disinfectant body wipes
when you want protection-on-the-go and
MATPRO solutions
for cleaning your salon before you open and after you close.
---