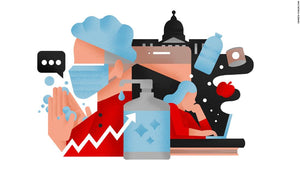 HAVE NO FEAR, WE HAVE YOU COVERED
Before Covid, most sports teams knew to sterilize, decontaminate, and cleanse their gear.  Harmful germs and bacteria always existed. Coaches insisted on spraying down helmet and pads to safely clean and disinfect all sports equipment used for Football, Lacrosse, Hockey, Baseball, Soccer, Wrestling, MMA, Basketball, etc.  So, when COVID-19 hit, over 5000 sports teams were already covered and protected with Helmet & Pad Disinfectant by MATGUARD®.
MATGUARD®'S active ingredient Isopropyl Alcohol 70% also kept the Police, Fire and First Responder, and their gear, bacteria free especially when used in conjunction with education on disease prevention.  In 2021, when businesses reopened, rental shops and action sports facilities in North America including Bike, Segway, ATV, Motorcycle, Ski & Skate, Hockey, horse-riding, Zip Lines, test drives, and batting cages also began to order more MATGUARD® for the prevention of bacteria and germ issues.
We have you covered too!  If you are looking to elevate your health and safety protocols too, we can help. We recommend a "Made in the USA" and an EPA and FDA-registered Helmet, Pad and Gear Disinfectant.  MATGUARD®'s bleach-free patented isopropanol formula is non-irritating solution to safely clean and disinfect equipment and ensure a long-life span for all your athletic gear.  
MATGUARD® also makes a fast-drying FDA approved 8 oz personal size Hand and Body Cleanse Spray that never dries out your skin.  MATGUARD® products contain emollients which act to re-hydrate the skin by replenishing the moisture that is lost by washing, sanitizing, and exposure to chemicals and dry air. Our formulation also includes a humectant which is used to attract and draw moisture from the surrounding air helping to trap and bind it to the skin.
---