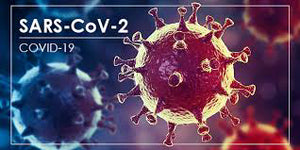 Coronavirus Safety
There is currently no vaccine to prevent 2019-nCoV infection. The CDC recommends everyday preventive actions to help prevent the spread of respiratory viruses, such as novel coronavirus:
Wash your hands often with soap and water for at least 20 seconds.

Use an alcohol-based hand sanitizer that contains at least 60% alcohol, if soap and water are not available.

Avoid touching your eyes, nose, and mouth with unwashed hands.

Avoid close contact with people who are sick.

Stay home when you are sick.

Cover your cough or sneeze with a tissue, then throw the tissue in the trash.

Clean and disinfect frequently touched objects and surfaces.
The precautions above are even more important when travelling. It's also important to be aware of the CDC's current travel advisories:
Avoid all nonessential travel to China and South Korea

Take precautions when traveling to avoid contact with sick people or consider canceling nonessential trips to Iran, Italy and Japan

Matguard, MatPRO, YogaMatguard and Helmet & Pad Disinfectants meet the obligations of the EPA and CDC for Killing the Covid-19 Virus! The formula used in our product is registered to kill 3 of the more virulent virus's including MRSA, H1N1 and SARS among many other high level pathogens. This allows us to make the KILL CLAIM on Covid- 19. Click here to see which products qualify. 

We currently sell to thousands of Schools, Health Clubs, Yoga Studios, Medical Facilities and Gyms...

Although, Matguard product portfolio is mostly viewed as Hospital Grade "Sports/Gyms" disinfectant, our name is not as well known as Clorox or Lysol, but we are equally effective.

For use on SKIN, Our antibacterial products are all 70% or greater alcohol based hand and body sanitizers that are perfect for when water and soap are unavailable.

We have plenty of stock and can deliver product anywhere in the USA.
---