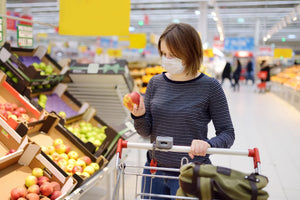 BYOS (Bring Your Own Sanitizer!)
What surfaces are the germiest at grocery stores?
We've got to tip our hats to grocery store workers. Honestly, before 2020, our biggest concern at the grocery store was usually forgetting the milk. Now we're thinking about what we're touching and the hundreds of others who have touched it before us. And grocery store workers have responded to our concerns fast, adding frequent sanitization of surfaces to their list of daily tasks.
According to a CBC Marketplace study of 24 grocery stores, workers' efforts have paid off. The cleanest surface studied was, surprisingly, the shopping cart handle. Researchers credit this to frequent sanitization by grocery store staff.
But what about other surfaces? The CBC swab study showed that some of the less thought-about surfaces turned out to be the germiest. These included the PIN pads, basket handles, the freezer doors, and the fronts of shopping carts (where you would pull the cart toward you).
With so many surfaces that we can't avoid touching, we can't expect our stores to be responsible for continually wiping down every single one.
The best idea may just be to implement a personal BYOS (Bring Your Own Sanitizer) policy. After touching PIN pads, freezer doors, and the front of your shopping cart, make sure to protect yourself with Matguard's Hand & Body Cleanse Sprays. You can feel germ-free no matter what you've touched with these CDC-registered 8 oz. sprays, which come in mango, green apple, and unscented.
Get on-the-go-protection and keep your family safe for the Holidays.
---